Asics padel rackets
Find your Asics padel racket in our online store, in 2019 Asics reinvents the way to play paddle tennis, with the same formula that has led to the success in the manufacture of padel shoes Asics the Japanese firm leads to a smaller collection where The main differences of their padel rackets are the shape and hardness of the rubber. The signing of Pablo Lima who together with Belasteguin has managed to lead the brand to be one of the best padel racket manufacturers.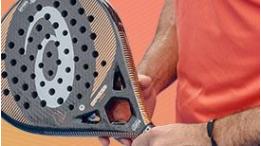 Asics Padel Rackets at the best price
After the success of the 2019 Asics rackets with the Speed ​​model, they continue with the brand's commitment to power, all of them have a very characteristic diamond shape or but, this shape has a balance displaced towards the head that facilitates largely offensive shots, usually volleys and spikes near the net. They are rackets that to obtain that power their sweet spot is reduced and their manageability is more limited, therefore they are more technical rackets that require players with experience on the field of play. You will be able to find the best price in our online store.
As the name suggests, the Asics Control racket is 100% control, round shaped rackets with a lower balance, which work very well for those beginning players. In addition, they incorporate a great sweet spot that will give us greater comfort, convenience and above all less demand in each point.
The Hybrid range racket combines the best of the world of power and the best of the world of control. Its main feature is that they have a teardrop shape and a medium balance, they are very balanced rackets that adapt perfectly to any paddle player. Another point to highlight is the sweet spot they have which makes it very easy to play with them despite the versatility they have.
Finally we would have the Pablo Lima racket or the Speed ​​series, the most powerful series and for players who are looking for power in abundance.
Asics padel racket Features
Currently this type of racket has 3 types of tires depending on the game or the level of play we have, the opinions of our customers indicate that they are very happy with this type of rackets:
Soft: It is the softest rubber from Asics, it is characterized by having an excellent ball output, they are the easiest to play and are the ones that best absorb vibrations.
Normal: Intended for those players who do not want soft or hard rubbers, they are rubbers that absorb vibrations well and have a medium power.
Hard: It is the hard rubber of Asics and as a general rule they are the most technical blades that it has because they bounce much more and it is more difficult to control the ball, the blades that carry this rubber have the incentive that their blades have a textured surface to get more effect.